Our Services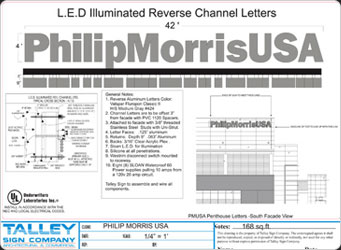 Design
Talley Sign Company offers in-house designers who work directly with our Project Managers to make sure your expectations become a reality. Our designers work with the latest design software and develop high-quality photos of your site with your proposed sign in place for approval.
Manufacturing
Talley Sign Company is a hands-on company, manufacturing all of the signs for our customers. Our manufacturing engineers utilize the latest computer-aided design software to ensure once your sign is complete it meets your expectations.
Installation
When it's time for your sign to be put in place, we will send a team of installers out to your site. Your Project Manager will work alongside the team to make sure all of your requests are met.
Service
If there are ever any questions or concerns regarding your sign, you may always call Talley Sign Company's Service Department. One of the members of our service team will be happy to come out and make any changes or adjustments you need.
Consultations
Our Project Managers work directly with our design engineers to help you choose a sign that will work best for your business' needs. Project Managers will provide you with:
Computer imaging showing you what your sign will look like once installed.
Detailed and accurate measurements.
Professional advice.
If you are interested in an on-site consultation, please contact us at 804-649-0325.
Permits
Talley Sign Company will help facilitate all of the permits required prior to your sign installation.
Service Contracts
We offer service contracts so all of our customers have the opportunity to extend the life of their image past our guaranteed 12-month warranty.
Sign Financing/Leasing
If you would like information on custom sign financing and leasing, one of our Project Managers can provide you details through several choice private vendors.